Vol. 33 (2013)
Vol. 32 (2012)
Vol. 31 (2011)
Vol. 30 (2010)
Vol. 29 (2009)
Vol. 28 (2008)
Vol. 27 (2007)
Vol. 26 (2006) Vol. 25 (2005) Vol. 24 (2004) Vol. 23 (2003) Vol. 22 (2002) Vol. 21 (2001) Vol. 20 (2000) Vol. 19 (1999)








Pak Vet J,

2006

,

26

(

1

):

20-22

STAPHYLOCOCCAL MASTITIS IN BOVINES AND SOME PROPERTIES OF STAPHYLOCOCCAL ISOLATES

M. ARSHAD, G. MUHAMMAD1, M. SIDDIQUE, M. ASHRAF AND H.A. KHAN

Department of Veterinary Microbiology, 1Department of clinical Medicine and Surgery, Faculty of Veterinary Science, University of Agriculture, Faisalabad, 38040, Pakistan

Abstract

Milk samples of 100 clinically mastitic bovines (50 each from buffaloes and cows) were processed for bacterial isolation. A total of 90 bacterial isolates, including 33 of staphylococci and 57 of other bacterial species were recovered. Of the 33 staphylococcal isolates, 23 were identified as Staphylococcus aureus and 10 as Staphylococcus epidermidis. All Staphylococcus aureus isolates were positive for deoxyribonuclease and mannitol fermentation test and produced ß-haemolysis on blood agar. All Staphylococcus epidermidis isolates were negative to these tests and failed to produce ß-haemolysis on blood agar containing 5% sheep erythrocytes. Penicillin resistance was detected in 13(56.5%) isolates of Staphylococcus aureus and 8(80%) isolates of Staphylococcus epidermidis. Penicillinase was produced by 4 of the 13 penicillin resistant isolates of Staphylococcus aureus and 2 of the 8 penicillin resistant Staphylococcus epidermidis isolates.

Key words: Mastitis, staphylococci, biochemical properties.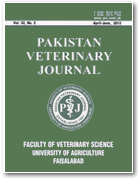 ISSN 0253-8318 (Print)
ISSN 2074-7764 (Online)