Vol. 33 (2013)
Vol. 32 (2012)
Vol. 31 (2011)
Vol. 30 (2010)
Vol. 29 (2009)
Vol. 28 (2008)
Vol. 27 (2007)
Vol. 26 (2006) Vol. 25 (2005) Vol. 24 (2004) Vol. 23 (2003) Vol. 22 (2002) Vol. 21 (2001) Vol. 20 (2000) Vol. 19 (1999)








Pak Vet J,

2007

,

27

(

3

):

109-112

SERO-PREVALENCE OF PESTE DES PETITS RUMINANTS (PPR)

VIRUS IN SHEEP AND GOATS IN

PUNJAB PROVINCE OF

PAKISTAN

H. A. KHAN, M. SIDDIQUE, M. J. ARSHAD1, Q. M. KHAN2 AND S. U. REHMAN

Department of Veterinary Microbiology,

University

of

Agriculture

,

Faisalabad

, 1National Veterinary Laboratory,

Islamabad

, 2National

Institute

of

Biology

and Genetic Engineering,

Faisalabad

,

Pakistan

Abstract

Peste des petits ruminants (PPR) is an acute febrile viral disease of sheep and goats characterized by mucopurulent nasal and ocular discharge, necrotizing and erosive stomatitis, enteritis and pneumonia. The disease is endemic in Pakistan and causes huge economic losses due to high rates of mortality and morbidity in infected sheep and goats. In the present study, 660 serum samples of sheep and goat were collected from 24 districts of Punjab Province of Pakistan. Competitive Enzyme Linked Immunosorbant Assay (cELISA) was used to detect the presence of antibodies in the serum against PPRV. Findings suggested that the sero-positive cases were significantly higher in sheep than in goats (51.29 versus 39.02%; P=0.002). The overall sero-prevalence of PPRV in small ruminants was 43.33%. Highest prevalence (35.71-100%) was observed in Southern districts, while no antibodies were found in serum from some of Northern and Eastern districts of the Punjab Province.

Key words: Peste Des Petits Ruminants, seroprevalence, small ruminants.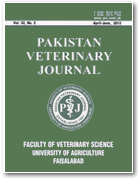 ISSN 0253-8318 (Print)
ISSN 2074-7764 (Online)