Vol. 33 (2013)
Vol. 32 (2012)
Vol. 31 (2011)
Vol. 30 (2010)
Vol. 29 (2009)
Vol. 28 (2008)
Vol. 27 (2007)
Vol. 26 (2006) Vol. 25 (2005) Vol. 24 (2004) Vol. 23 (2003) Vol. 22 (2002) Vol. 21 (2001) Vol. 20 (2000) Vol. 19 (1999)







Pak Vet J,

2001

,

21

(

1

):

36-38

EFFECT OF TWO COMMERCIAL ANTI-STRESS DRUGS ON THE GROWTH OF ARTIFICIALLY INDUCED STRESSED BROILERS


A. Memon, N. A. Qureshi, Mol. Rind, A.A. Solangi and G. Memono1

Faculty of Animal Husbandry and Veterinary Sciences, 1Department of Agriculture, Education, Extension and Short Courses, Sindh Agriculture University, Tandojam, Pakistan

Abstract

The Study was carried out to evaluate the efficacy of anti-stress commercial drugs (Vitasol Super and Vitamionic-33) on growth of stressed broilers, at the Poultry Experimental Station, Sindh Agriculture University Tandojam during August-September, 1998. A-day old 150 chicks were equally housed in three groups that were A, Band C. In group " A " five grams Vitasol Super was added in 40 litres of drinking water, while in group "B" one gram of Vitaminic-33 was added in three litres of drinking water. Group "C" was kept as control, where no anti-stress drug was supplemented in water. Results revealed highly significant difference among weight gain of broilers fed on ration supplemented with different anti-stress drugs. Average weight gain of all groups A, Band C were 1796.50, 1899.80 and 1760.52 gms, respectively. Average feed consumption of different groups were 3830, 3859 and 3818 gms, respectively. Average feed conversion ratio of different groups A, Band C was 2.14, 2.03 and 2.17, respectively. The average dressing percentage of difference groups were 62.10, 64.52 and 61.60. Highly significant difference was observed in weight of internal organs of different groups. The average per kilogram of broilers profit of different groups were Rs. 10.49, 13.81 and 10.95, respectively. The birds of group B, which was, earned maximum profit given Vitaminic-33 (anti-stress drug). It was concluded that anti-stress vitamin (Vitaminic-33) at the rate of5grams/40 litres of water ad libitum can be successfully used for better growth of broilers.

5Key words: Broilers, stress, anti-stress drugs.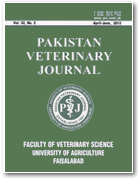 ISSN 0253-8318 (Print)
ISSN 2074-7764 (Online)