Vol. 33 (2013)
Vol. 32 (2012)
Vol. 31 (2011)
Vol. 30 (2010)
Vol. 29 (2009)
Vol. 28 (2008)
Vol. 27 (2007)
Vol. 26 (2006) Vol. 25 (2005) Vol. 24 (2004) Vol. 23 (2003) Vol. 22 (2002) Vol. 21 (2001) Vol. 20 (2000) Vol. 19 (1999)








Pak Vet J,

2003

,

23

(

2

):

73-77

BACTERIAL FLORA OF HATCHERY ENVIRONMENT AND THEIR IN-VITRO SUSCEPTIBILITY TO ANTIMICROBIAL AGENTS

F. M. Khan, H. Afzal and F. Deeba

Department of Veterinary Microbiology, University of Agriculture, Faisalabad, Pakistan

Abstract

Four hatcheries, located in and around Faisalabad, were sampled a day before hatch out in six batches for environmental bacterial flora. Hatchery air, egg-shell surface, surfaces of selected locations and water supply samples were taken for this purpose. The percent (relative) occurrence of various bacterial species recovered from hatchery environment revealed that Bacillus subtilis was the predominant isolate (26.93%). followed by Escherichia coli (24.08%), Staphylococcus epidermidis (16.32%), Staphylococcus aureus (8.16%), Paratyphoid salmonellae (6.93%), Pseudomonas aeruginosa (4.48%), Citrobacter jreundii (4.08%), Enterococcus faecalis (3.26%), Klebsiella pneumoniae (3.26%), Bordetella avium (1.63%) and Proteus vulgaris (0.81%). In second part of the study, bacterial isolates were subjected to in-vitro antibiotic sensitivity to 8 antibiotics of common poultry use. It was found that 98.92, 79.56. 65.59, 61.29, 61.29, 61.29, 53.76 and 38.70 percent of bacterial isolates were sensitive to Norfloxacin, Gentamicin, Neomycin, Chloramphenicol, Doxycycline, Flumequine, Erythromycin, and Ampicillin, respectively. In the final part of the study, bacterial isolates were tested for resistance to 3 commerical hatchery disinfectants (TH4®, Aldekol Des® 0.2, and Bromosept 10% soln. ®. Only 3.22% of the isolates showed resistance at manufacturer's recommended dilution (MRD) levels while 11.82% of the isolates showed resistance at concentrations below the MRD levels.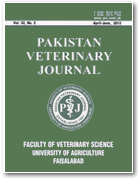 ISSN 0253-8318 (Print)
ISSN 2074-7764 (Online)